Emily in Paris - season 1
With Emily in Paris, Netflix has managed to release another hit. Even though reviews have been mixed, the series has attracted loads of viewers and a second season has already been announced.
The romcom story of a young American woman who finds herself in the position to start a new life in romantic Paris appeals to many. Due to the way Emily was raised, she hasn't seen a lot of the world. Because of that, this emigration is extra special for her and an event that will change her life.
The story progresses due to relationships and humour.
As a social media expert, Emily (Lily Collins,
The Last Tycoon
) is sent from Chicago to Paris by her employer. She is tasked with making French marketing agency Savoir more appealing to a younger, more international audience. At first, she is rather unprepared, naive and a bit arrogant. Without any knowledge of the French language, she realises that it's quite tricky to live in France. Not everyone is able to speak English and things are done differently in Europe than in the USA.
Emily in Paris
is a light series that is easy to watch and is thus quite suitable for binge-watching. The first season has ten episodes, which all last for approximately thirty minutes. From the very beginning, it is clear that the series has been created by the same people who worked on
Sex and the City
. The atmosphere is pretty similar, it revolves around fashion and there is a big focus on the city it takes place in. The lead character is a bit younger, though. And for all of those who wonder, yes, production actually took place in Paris.
Out of boredom, Emily decides to post her adventures in Paris on Instagram. This becomes a huge success and after a short while, @emilyinparis is a true influencer. Her new hobby can be a bit conflicting with her job. Her grumpy new boss Sylvie (Philippine Leroy-Beaulieu,
Mistral's Daughter
) isn't happy with the Instagram account and how it affects Emily's work.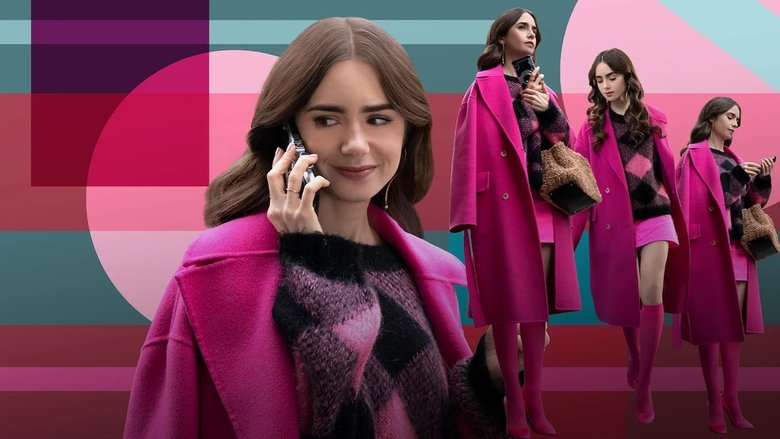 © Netflix
The lighting in the series can be quite bright and intense. This provides a more polished look, but it can be a bit fake at times. The weather outside isn't that realistic either. It is dry all the time, the sun is always shining and people are usually walking around without coats. There are also a lot of stereotypes. It appears as if stereotyping is a way to emphasize humour. This also applies to the absurd situations Emily finds herself in. Does this ensure realism? No. Is that a problem? No, not as far as I'm concerned.
Emily in Paris
isn't trying to be a serious drama series.
Shortly after moving, Emily becomes friends with Mindy (Ashley Park,
Tales of the City
), an extrovert au pair who is happy to supply Emily with relationship advice. She also develops a bond with her downstairs neighbour Gabriel (Lucas Bravo). Emily's colleagues are just as stereotypical as Sylvie. Especially the duo Julien (Samuel Arnold) and Luc (Bruno Gouery) are quite remarkable and most of their comments are quite sassy.
The clichés are sometimes cringe-worthy and the series as a whole cannot be called innovative either.
The story progresses due to the relationships and its resulting humour. The relationships may be wafer-thin, but amusing enough to keep the attention. As far as humour is concerned, it is not always that obvious. At first, I even missed the humour completely and I thought the jokes just came across as bland and simple. Fortunately, this eventually changed. Especially during the second half of the season, there are some funny moments that made me laugh out loud.
People that love depth and realism will probably not enjoy
Emily in Paris
. Honestly, it is not the best series, the clichés are sometimes cringe-worthy and the series as a whole cannot be called innovative either.
Emily in Paris
is something you shouldn't have high expectations of. It's something you can watch to escape reality. Not of the highest quality, but good enough to be successful and relaxing to watch. I think that I'll return for the second season, which is why I - despite my criticisms - have decided to award
Emily in Paris
with a sufficient grade.
About author, Wichita van Rijkom

Wichita is a huge animal lover and 90's kid who loves watching TV series and writing. Despite her age, she has been unfit for work for over fifteen years now. Watching TV series is a way to relax and have fun for her. That's what makes writing reviews for MySeries such a perfect hobby for her. In the past, she's also co-written a book about one of her health issues and has been writing reviews for MySeries since the beginning of 2013. English has always come natural to her because of her international contacts and past travels in her childhood. That's why she loves to write English reviews from time to time as well as Dutch reviews for MySeries.
More reviews of Wichita van Rijkom
Follow Emily in Paris