The Irregulars - first episode
A somewhat meaningless pilot with potential, which shows a modernized version of the classic story of Sherlock Holmes. This new story has a supernatural theme.
A somewhat meaningless pilot with potential.
Every single week, Netflix releases new series. On the one hand, it is desperately needed to remain relevant in the ever-growing streaming landscape, but on the other hand, the quality of each series decreases when quantity becomes more important. I haven't fully decided whether
The Irregulars
is a hit or a miss.
The Irregulars
revolves around a group of street kids in Victorian London. As part of an assignment that was given by Dr Watson (Royce Pierreson,
The Witcher
) and his partner Sherlock Holmes, the group starts to solve supernatural crimes. This all has to do with the supernatural gifts of one of the kids, Jessie (Darci Shaw,
The Bay (2019)
. The other Irregulars are portrayed by Thaddea Graham (The Letter for The King), McKell David (
Snatch
) and Jojo Macari (
Sex Education
). Harrison Osterfield (
Catch-22
) portrays Prince Leopold, the youngest son of Queen Victoria, who suffered from haemophilia.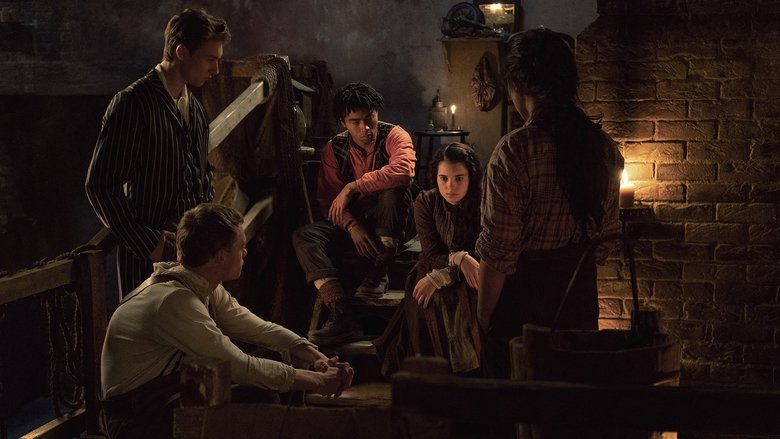 © Netflix
The Irregulars
follows the standard pattern wherein each episode has a different enemy, but as part of the bigger story of the entire series. Although that's what I've read, I have only watched the pilot episode. That pilot is somewhat meaningless, but it does have potential. We are immediately thrown in the thick of it, which is not a bad thing, but due to that, there isn't a whole lot of time for character introductions. You'd expect that a 58-minute pilot episode would take the time to introduce everyone.
The acting is fine and the editing is a bit unusual at times. The music is really out of place and doesn't fit the theme at all. I do hope that this improves over the course of the season.
Honestly, I'm not entirely sure what to think. It is a decent series that seems to be aimed at a specific audience, young adults. I'm just a bit indifferent regarding this pilot. Fine, but nothing special.
That is why I have decided to award this first episode with a 6.0!
Follow The Irregulars